When it comes to generating quality leads likely to convert into buyers, both marketers and sales leaders trust B2B email marketing. And email marketing undoubtedly is still the most dependable way to lead generation.
Emails are far more relevant than you may think. Have a look at these stats-
According to 40% of B2B marketers, email newsletters cater to content marketing success.
93% of B2B marketers use email for content distribution and syndication.
73% of millennials expect communication from businesses to come via email.
>59% of B2B marketers claim email to be an essential source of Leads and eventually ROI.
77% of B2B marketers use B2B Email Marketing to drive leads
The buyer can be a synonym to revenue in the ideal world, and all buyers start as leads. However, generating leads is only half the work; nurturing the leads until they make a buying decision is the significant other.
In part-I of this blog, we mentioned seven key points to consider while initiating a B2B email campaign to make the campaign a success and deliver the desired results. But how can one actually generate revenue via B2B emails? Let's find out.
The Ultimate B2B Email Marketing Strategy to Propel Sales
Knowing how and where to start is essential, but the real work begins after. Getting your audience's attention is necessary, but the goal is that the targets convert into buyers. For that, a series of analyses, strategies, and efforts need to go in vigorously. Let's consider a highly result-driving approach to B2B Email Marketing-
Lead Nurturing- The Ultimate Guide
Lead Nurturing can begin only when the viewer of the email is a lead. Email open rate is an excellent KPI to identify leads, so you can start there and begin to pursue them with a series of emails sent in regular time intervals. First, however, there are a set of emotions that play a vital role and trigger buying actions- Gain, Logic, Fear.
Segment the actions of the receiver into opened emails and not opened emails and follow the email shooting sequence as the four images given below: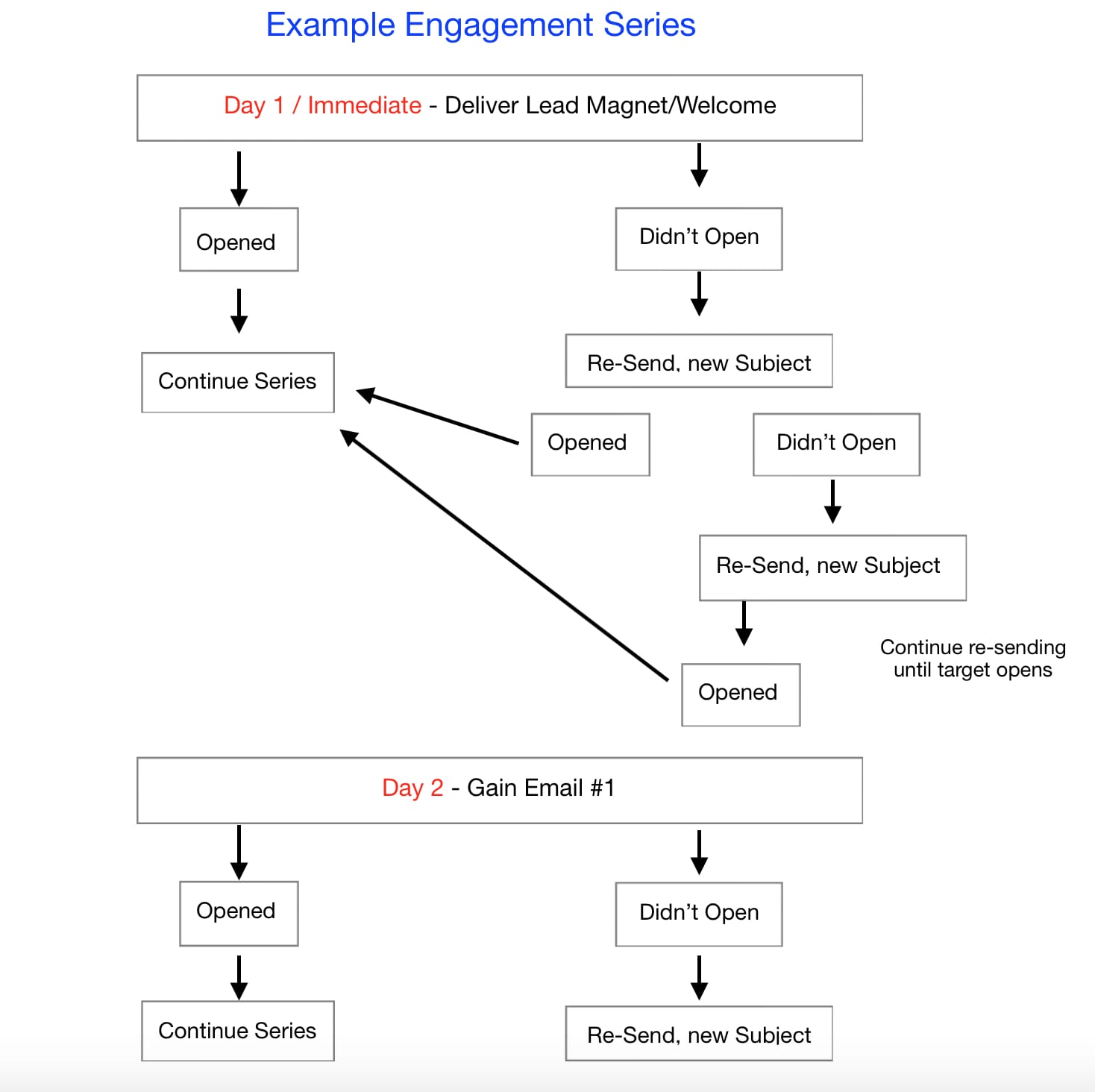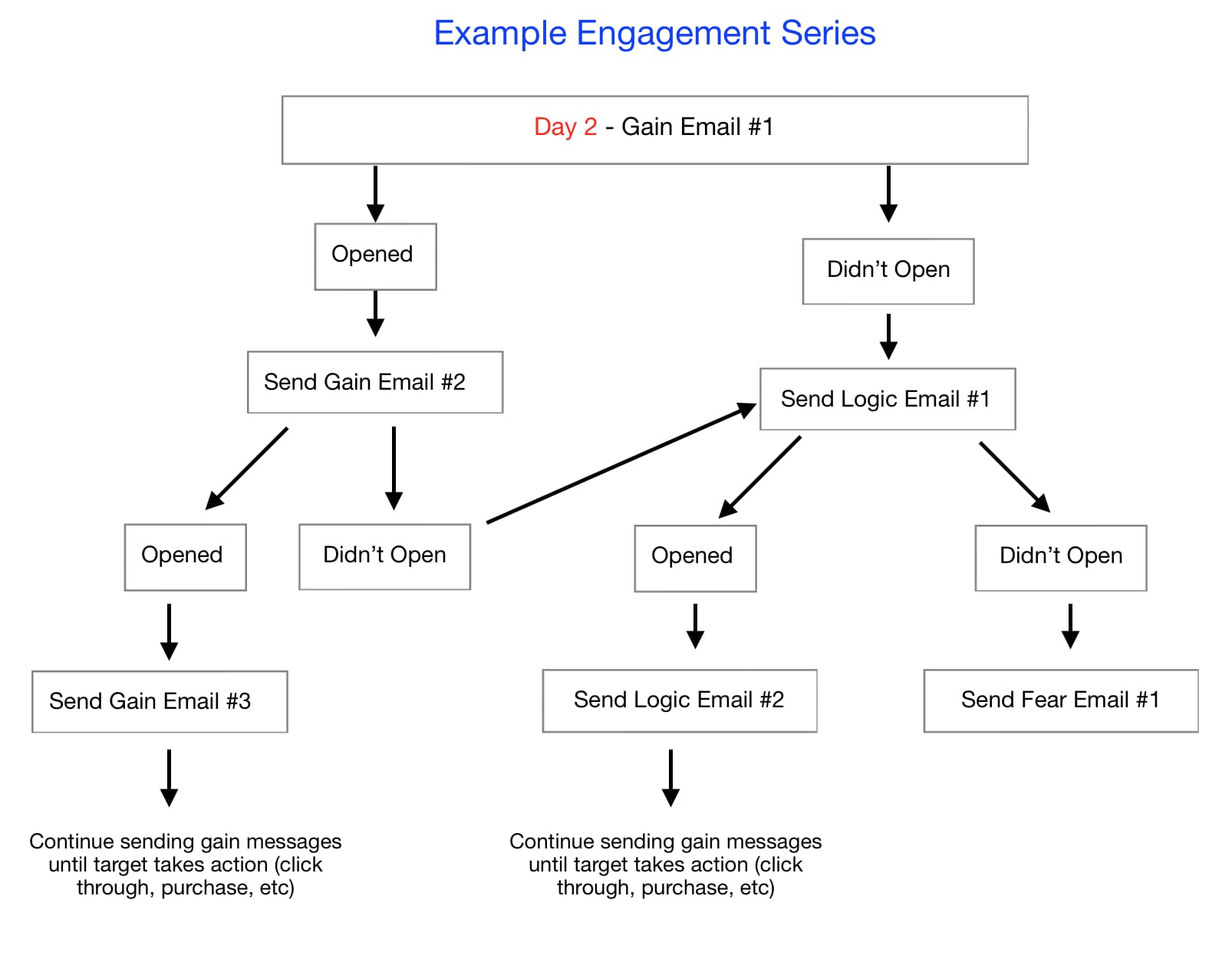 However, if the recipient won't even open your message after ten different attempts, they aren't going to. Maybe you have the wrong email address. Perhaps they have an exceptionally robust spam filter that you're never going to break in through. Either way, after ten sends, it's time to move them onto your dead email list and instead shift focus to the opens.
Keeping Track
Tracking KPIs and metrics is as crucial at this stage as it is at the initial stages. When the email campaign is at its peak or almost done, track these metrics regularly to see if your email campaign is successful or not. By doing this, you will also get a hold of the factors that affected the campaign's performance. Following are a few essential email marketing KPIs to track:
Landing page hits
Landing page conversions
Unsubscribe rate
Response rate
Leads generated
Leads qualified
Leads converted
Consistency
Although continuous emailing can easily land you in the spam box, consistency in email shooting is essential. Now the drill is that you must find a balance to engage the audience without spamming them with emails. Here, content and the sending patterns can be a deal-breaker. For example, sending emails on specific days and at a particular time with content that induces at least one of the buying action emotions is more likely to get opened. So instead of intrusive, cold email shooting, start with preparing a schedule and craft out content that adds value and offers something to the reader.
Re-connecting with the Lost Ones
B2B Email Marketing is not a short process. In fact, it's a long series of emails, campaigns, and data. And it is simple to miss out on essential elements during the entire process. Not all leads convert into buyers, but not all leads are dead either; some leads may momentarily lose interest or may simply be exploring their options. Either way, it is essential to keep track of these leads and keep on trying to re-connect with them at regular intervals. Stay with them with a series of highly logical and gain emails, say once or twice every week, maybe even frequently, if you should think they are still interested. Enhance your CTA and add value while also establishing why you are a better choice for them.
Wrapping it Up
B2B email marketing, when done right, does work wonders in revenue generation. Over 80% of the sales leaders rely on and prefer leads via email marketing, for a good reason.
Moreover, in B2B marketing, it is crucial to identify the intent, the target specified accounts, personalize the content for different audience types, consistently shoot the emails, jot stellar content and track the metrics to find out the causes of the issue. In addition, analyzing the campaigns will help marketers fix the problem and replicate the working practices. On the other hand, automation plays yet another vital role, enhances the campaigns' efficiency, and ensures compliance with the technicalities of emailing. To sum it all up, emails yield high-quality leads when integrated with strategic planning, market analysis, and testing.